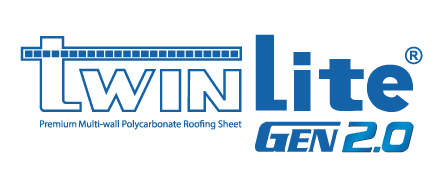 A Perfect Combination of Technology, Quality, and Beauty
Polycarbonate Twinlite® Gen 2.0 is a new generation of Twinlite, a result of our continuous improvements to give you a better product.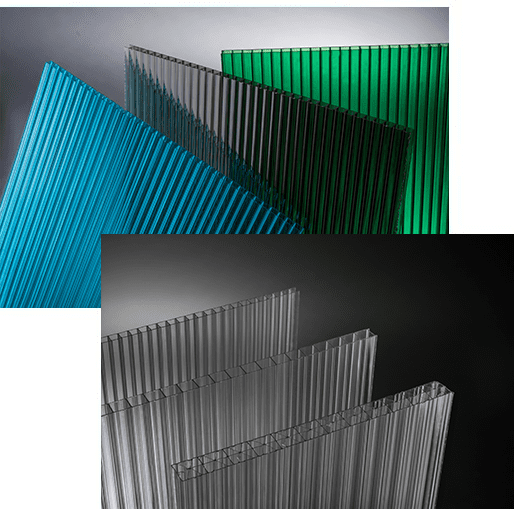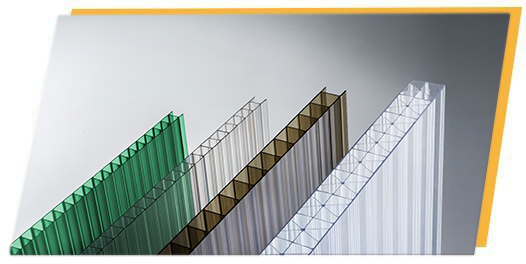 The new Twinlite® Gen 2.0 is re-formulated to resist harsh weather condition and redesigned to deliver unique benefits like superior impact, wind, and water resistance.
Produced using the most advanced and proven technology to date, Twinlite® Gen 2.0 combines the sleek look of a multiwall polycarbonate sheet with the strength and versatility for enduring elegance.
For you who live the green life, the superior clarity of Twinlite® Gen 2.0 could be an option for your natural lighting need, while its double/triple walls feature makes it an excellent thermal insulation to save your air condition cost.
Twinlite® Gen 2.0 offers superior durability, unmatched design flexibility and structural integrity that surpasses other glazing material.
Twinlite® Gen 2.0 is the right choice for almost any demanding glazing application.
Twinlite®Gen 2.0
ADVANTAGES
Reduce heat without sacrificing light transmission
Absorbs almost 100% of sunlight UV radiation
Natural lighting, electricity and energy saving
250 times stronger than glass and 20 times stronger than acrylic
Very light, very strong and virtually unbreakable
Withstand temperature changes from -20°C to 120°C
Twinlite®Gen 2.0
APPLICATION
Transparent roofing for shopping centers, bus/train terminals & sports halls
Billboard displays, signage
Skylight
Greenhouses
Pool enclosures
Partition
Heat or sound insulation panels
Canopies, gazebos, pergolas, carports
Co-Extruded
UV Layer
Besides protecting the people underneath from the harmful UV rays, the co-extruded UV layer onTwinlite® Gen 2.0 surface enhances its durability outdoor, preventing it from getting yellowing or discolored and brittle for a long period of time.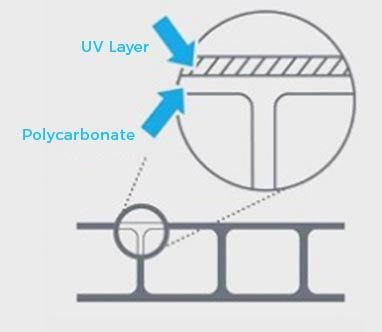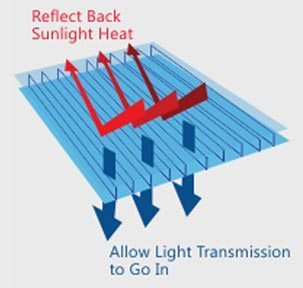 HOW IT WORKS
Twinlite® Gen 2.0 reflects sunlight heat while at the same time still letting the light in; allowing people underneath to feel comfortable and to enjoy sufficient light.
AVAILABLE
COLOURS
To meet your architectural need, Twinlite® Gen 2.0 comes with selected beautiful colors
LIGHT & HEAT
TRANSMISSION
| Color | Light Transmission | Heat Transmission |
| --- | --- | --- |
| Cool Grey | 8% | 22.96% |
| Cool Bronze | 20% | 28.51% |
| Silver Millenium | 21% | 7.25% |
| Cool Blue | 35% | 37.16% |
| Cool Green | 35% | 35.56% |
| Opal | 26% | 0.30% |
| Tosca | 50% | 44.39% |
| Clear | 87% | 60.31% |
Above data applies for Twinlite® Gen 2.0 – 6mm only
STANDARD
SIZES
Thickness
(mm)
Width
(meter)
Length
(meter)
Grams/m2
(grammage)
5
2.1
Customized
1,100
6
2.1
Customized
1,300
10
2.1
Customized
1,700
16*
2.1
Customized
2,700
*Available in triplewall, X structure
WARRANTY
Twinlite® Gen 2.0 is warranted for a period of fifteen years against excessive loss of light transmission and/or surface yellowing on the UV protected surface.
The warranty applies to Twinlite® Gen 2.0 installed and maintained according to the manufacturer's recommendations and specifications. Full warranty details are available from any authorized Twinlite® Gen 2.0 distributor. It is important to retain the original receipt as proof of purchase for any warranty claim.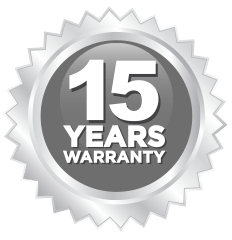 HOW TO INSTALL TWINLITE GEN 2.0
Please read and follow the installation's instruction carefully before starting. For more detail information, please refer to TwinLite Gen 2.0 installation guideline.
TWINLITE GEN 2.0
PERFECT COMBINATION OF TECHNOLOGY, QUALITY, AND BEAUTY
Get complete information about the specifications and features of Twinlite Gen 2.0.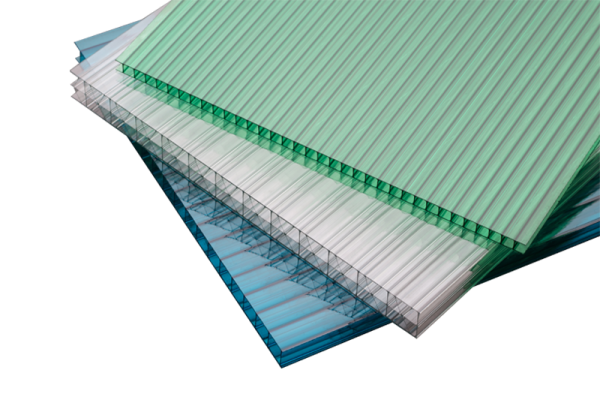 SEND INQUIRY
For further information on our products, please simply fill in the form below and our representative will respond to you as soon as possible.