A Quality Twinwall Polycarbonate Sheets
Using only the best grade raw materials and the most advanced European technology known to date, Solarlite® is the right choice when you are looking for a quality twinwall polycarbonate sheets with the highest value and cost-benefits.
Solarlite® is available in various attractive colors, suiting your architectural taste preferences. Added with design flexibility, Solarlite® will easily meet the needs of almost any challenging glazing applications and structures.
Where quality is the new standard of roofing, Solarlite® is the right solution for you.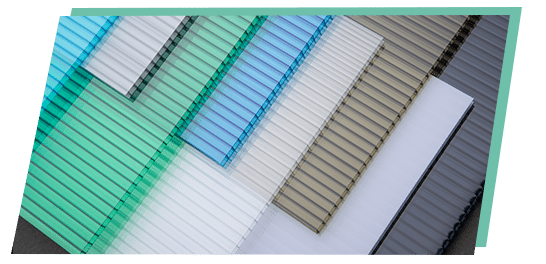 OUR
ADVANTAGES
Light-weight yet strong and durable.
Outstanding weatherability.
250 times stronger than glass and 20 times stronger than acrylic.
Reduce heat and sound without sacrificing any light.
Natural lighting, electricity and energy saving.
Environment-friendly.
As transparent as glass.
Easy to install and fabricate.
Withstand temperature changes from -20°C to 120°C.
Solarlite®
APPLICATION
Any architectural roofing & glazing
Skylights, shelters, canopies, awnings, walkways
Commercial advertising panels, signage, light boxes & neon signs
Partition and insulation panels
Pool enclosures
Greenhouses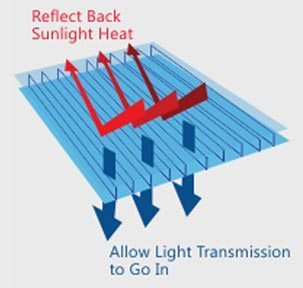 HOW IT WORKS
SolarLite® reflects sunlight heat while at the same time still letting the light in; allowing people underneath to feel comfortable and to enjoy sufficient light.
AVAILABLE
COLOURS
To meet your architectural need, Solarlite® comes with selected beautiful colors: Grey ST, Green ST, Blue ST, Bronze ST, Opal, Tosca, Clear, and Silver Millennium.
LIGHT & HEAT
TRANSMISSION
| Color | Light Transmission | Heat Transmission |
| --- | --- | --- |
| Clear | 87% | 80% |
| Bronze | 27% | 70% |
| Green | 42% | 75% |
| Grey | 10% | 62% |
| Blue | 25% | 74% |
| Opal | 32% | 45% |
*The above data applies for Solarlite 5 mm
STANDARD
SIZES
Thickness
(mm)
Width
(meter)
Length
(meter)
Grams/m2
(grammage)
5 mm
2.1
Customized
1100
*For customize sizes, please contact us
SEND INQUIRY
For further information on our products, please simply fill in the form below and our representative will respond to you as soon as possible.