SOLAR DRYER DOME

IMPROVE YOUR PRODUCTIVITY AND TURNOVER WITH SOLAR DRYER SOLUTION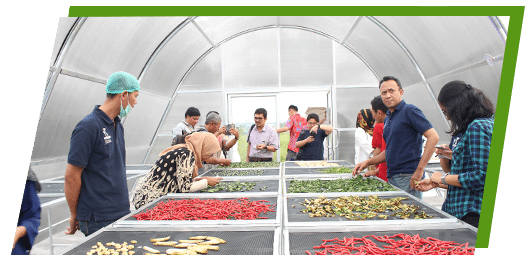 8 BENEFITS FOR
COMMODITY GROWER
Lessen drying time -> Time saving
Eg : Banana: Traditional drying 6-7 days, Solar dryer 2-3 days
Reduce losses caused by the spoilage / wastage up to 50%
Better hygienic standard : less dust, less pollution, no fungus, no animal
Weather "resistance" : wind and rain are no longer the obstacles
Better product quality: color, skin, and original taste retention.
Can maintain 80-95% of highly important nutrition values of food in drying process
You can control the temperature inside the dome
Create additional value : Dried products -> higher margin
PROBLEM IN TRADITIONAL
DRYING SYSTEM
40% of spoilage occurs at drying processing stage
Color of the dried products declines significantly
Weather : rain, winds
Animal : damage, hygienic issues
AVAILABLE SOLAR DRYING DOME SIZES AND RELATED CAPACITY
| Type | Small | Medium | Large | Jumbo |
| --- | --- | --- | --- | --- |
| Dimension | 8m x 6.2m | 8m x 12m | 8m x 20m | 8m x 27m |
| Capacity | 200-300 kg | 400-600 kg | 1000 kg | 1500 kg |
SOLAR DRYER DOME INSTALLATION
This is the basic information on the installation of Solar Dryer Dome. Please read and follow the installation's instruction carefully before starting. For more detail information, please refer to Solar Dryer Dome installation guideline.
SOLAR DRYER DOME
IMPROVE YOUR PRODUCTIVITY AND TURNOVER WITH SOLAR DRYER SOLUTION
Get complete information about the specifications and features of Solar Dryer Dome.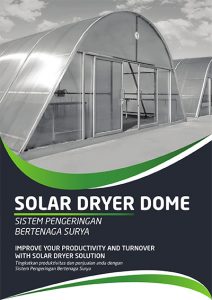 SEND INQUIRY
For further information on our products, please simply fill in the form below and our representative will respond to you as soon as possible.