Nothing Beats Solartuff in Clarity and Durability
SolarTuff® is the premium corrugated polycarbonate sheet with superior transparency and toughness, absolutely the perfect roofing and glazing solution to your architectural needs.
Engineered with the most advanced European technology and selectively the best grades of plastic resins, SolarTuff® comes in lightweight yet virtually unbreakable characteristic, qualifying itself to withstand severe weather condition and unpredictable climate changes.
On top of it all, easy installation, high design flexibility and various attractive colors make SolarTuff® the perfect roofing and glazing secret to express your unique design and architectural creativity and imagination.

Where Clarity is Second to None and Virtually Unbreakable
SolarTuff Solid® is solid flat polycarbonate sheet with the highest clarity and impact strength, produced using the finest resin grades and the most advanced European technology executed with over 30 years of industry experience.
Having perfect transparency just like glass, yet being virtually unbreakable, SolarTuff Solid® is the one stop glazing solution which will easily blend in harmony with your existing exteriors and interiors.
SolarTuff Solid® protects you and your loved ones from the harmful UV rays, giving such comfort while enjoying the natural sunlight.
When quality and style are your way of living, SolarTuff Solid® is your absolute choice.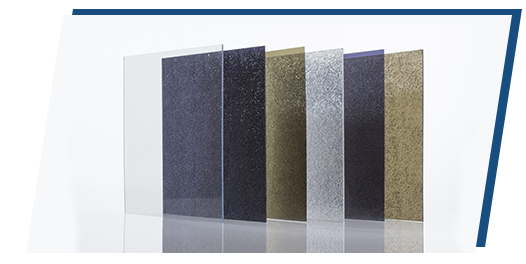 Polycarbonate Roofing to Suit Your Lifestyle
SolarTuff Custom Glaze is a translucent polycarbonate sheet that is strong, but lighter than glass. Equipped with a two-corrugation connection system on the left and right edges, installing SolarTuff Custom Glaze behind a vertical frame looks elegant like flat glass.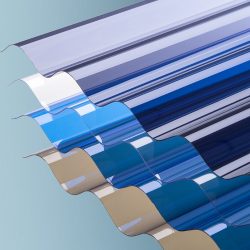 SOLARTUFF ROMA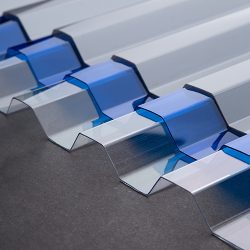 SOLARTUFF GRECA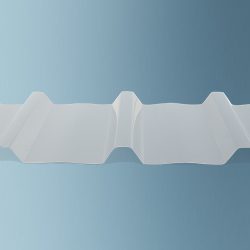 SOLARTUFF TRIMDECK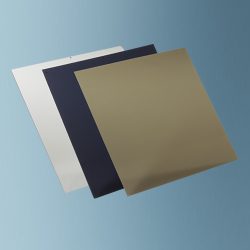 SOLARTUFF SOLID PLAIN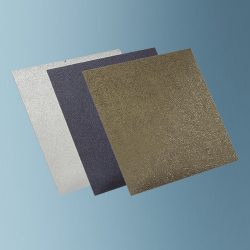 SOLARTUFF SOLID EMBOSSED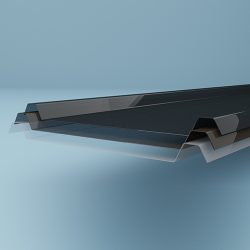 SOLARTUFF CUSTOM GLAZE
SolarTuff®
ADVANTAGES
250 times stronger than glass and 20 times stronger than acrylic
Reduce heat without sacrificing light transmission
Natural lighting, electricity and energy saving
High impact resistance and virtually unbreakable
Environment-friendly
As transparent as glass
Flexible, easy to install and fabricate
Flat and smooth surface (SolarTuff Solid)
Leak-proof, under correct installation
Less structural support needed due to the lightweight feature
UV protected and weather resistant
Acoustical insulation (SolarTuff Solid)
Withstand temperature change from -20°C to 120°C
SolarTuff®
APPLICATION
Transparent roofing, canopies, gazebos, pergolas and carports
Swimming pool enclosure
Green house glazing
Cladding
Skylights, Sky roofing
Industrial Structures
Highway enclosures for soundproofing purpose (SolarTuff Solid)
Public utilities glazing and partition (SolarTuff Solid)
Safety and security glazing (SolarTuff Solid)
Riot shield (SolarTuff Solid)
Machine guards (SolarTuff Solid)
Signage, light fixtures and neon signs (SolarTuff Solid)
Thermoforming and fabricated items (SolarTuff Solid)
UV Protection
Besides protecting the people underneath from the harmful UV rays, the co-extruded UV layer on SolarTuff's surface enhances its durability outdoor, preventing it from getting yellowing or discolored and brittle for a long period of time.
AVAILABLE
COLOURS
The Perfect Color for Every Location
Whether the structure faces north, south, east or west, SolarTuff® has a color that offers you the right choice of heat and light transmissions for all your project needs.
The light and heat transmission is an important factor in choosing the right color for your location. If the area surrounding your structure is normally hot and sunny, has little shade or poor ventilation, we recommend you choose a color with a lower light and heat transmission value. On the other hand, if your location is shady or cold and requires maximum light and warmth, choose a color with a higher light and heat transmission value.
Type
Thickness
(mm)
Width
(mm)
Effective
Width
(mm)
Height
(mm)
Pitch
(mm)
Length/
Customized
(m)
SolarTuff Roma

0.8 mm
860
760
18
76
1,8

2,4

3

3,6

4,2

6

SolarTuff Greca

0.8 mm
820
760
18
76
SolarTuff Trimdeck

0.8 mm
830
762
29
190.5
6
SolarTuff Solid Plain
1.2 mm
1,100
1,100
–
–
50
SolarTuff Solid Plain & Embossed
3 mm
1,220
1,220
–
–
20
SolarTuff Custom Glaze

2 mm
670
610
34
–
6
*Customized length for export
**For 0.6 – 6mm thickness, please contact us
LIGHT & HEAT
TRANSMISSION
Profile
Colours
Light Transmission
Heat Transmission
SolarTuff Corrugated
 Clear
89%
97%
Bronze
28%
89%
Green
43%
91%
Grey
10%
71%
 Blue
22.5%
88%
Silver Millenium
14%
14%
Opal
21%
42%
SolarTuff Solid/Flat Plain
 Clear
90%
86%
Bronze
11%
81%
Grey
3%
63%
SolarTuff Solid/Flat Embossed
 Clear
80%
78%
Bronze
14%
70%
Grey
4%
54%
SolarTuff Custom Glaze
 Clear
90%
0%
Bronze
11%
19%
Grey
30%
37%
*Above data applies for SolarTuff Solid 3 mm only
WARRANTY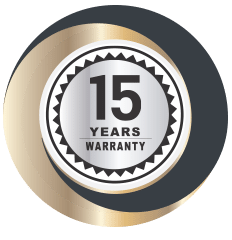 SolarTuff® is warranted for a period of fifteen years against excessive loss of light transmission and/or surface yellowing on the UV protected surface.
The warranty applies to SolarTuff® installed and maintained according to the manufacturer's recommendations and specifications. Full warranty details are available from any authorized SolarTuff®distributor. It is important to retain the original receipt as proof of purchase for any warranty claim.
HOW TO INSTALL SOLARTUFF
Please read and follow the installation's instruction carefully before starting. For more detail information, please refer to SolarTuff installation guideline.
SOLARTUFF
NOTHING BEATS SOLARTUFF IN CLARITY AND DURABILITY
Get complete information about the specifications and features of SolarTuff.
SEND INQUIRY
For further information on our products, please simply fill in the form below and our representative will respond to you as soon as possible.