SUSTAINABILITY REPORTS & OTHER DOCUMENTS
Our Sustainability Report
Read more on how we aim to achieve our 2030 Goals.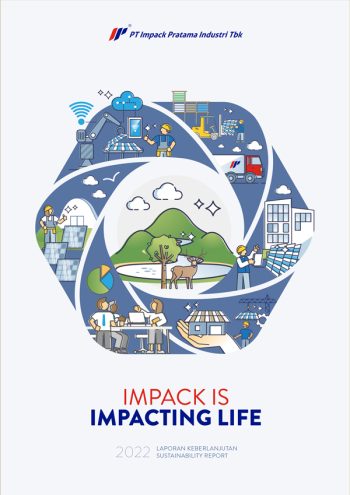 Good Corporate Governance principle is our guiding compass in the operation of our business. See and download our corporate policies below.
To date, we have received several internationally renowned certifications from a number of global standards institutions. Read and download our certifications below.
PT Impack Pratama Industri Tbk

ISO 9001:2015

Quality Management System for Production of Polycarbonate Roofing and Aluminum Composite Panel

ISO 14001:2015

Environmental Management System for Production of Polycarbonate Roofing and Aluminum Composite Panel

Green Label Indonesia

Green and environmentally friendly certified to Aluminum Composite Panel product under the brand Alcotuff with Gold category

Greenship Certificate

for New Building V.1.1 Altira Business Park with Platinum Rating from Green Building Council Indonesia

PT Kreasi Dasatama

ISO 9001:2015

Manufacture of Corrugated Polypropylene Sheet

PT Alderon Pratama Indonesia

FloorScore®

Indoor Air Quality Certified to SCS-EC10.3-2014 v4.0, Conforms to the CDPH/EHLB Standard Method v1.2-2017 for School Classroom and Private Office Parameters when Modeled as Flooring

PT Unipack Plasindo

ISO 9001:2015

Quality Management System for Manufacture of Compound and Roofing Plastic Products
Good Corporate Governance principle is our guiding compass in the operation of our business. See and download our corporate policies below.

To date, we have received several internationally renowned certifications from a number of global standards institutions. Read and download our certifications below.

PT Impack Pratama Industri Tbk

ISO 9001:2015

Quality Management System for Production of Polycarbonate Roofing and Aluminum Composite Panel

ISO 14001:2015

Environmental Management System for Production of Polycarbonate Roofing and Aluminum Composite Panel

Green Label Indonesia

Green and environmentally friendly certified to Aluminum Composite Panel product under the brand Alcotuff with Gold category

Greenship Certificate

for New Building V.1.1 Altira Business Park with Platinum Rating from Green Building Council Indonesia

PT Kreasi Dasatama

ISO 9001:2015

Manufacture of Corrugated Polypropylene Sheet

PT Alderon Pratama Indonesia

FloorScore®

Indoor Air Quality Certified to SCS-EC10.3-2014 v4.0, Conforms to the CDPH/EHLB Standard Method v1.2-2017 for School Classroom and Private Office Parameters when Modeled as Flooring

PT Unipack Plasindo

ISO 9001:2015

Quality Management System for Manufacture of Compound and Roofing Plastic Products