Impack's subsidiaries, PT Alderon Pratama Indonesia and PT Alsynite Indonesia have completed their installation in PT. Panca Amara Utama ammonia plant in Banggai – Central Sulawesi last January 2018.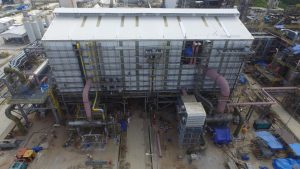 95% of the total buildings in Banggai Ammonia plant use twinwall uPVC Alderon and Alsynite FRP, the main building, fire station building, maintenance and workshop buildings, production facilities, chemical warehouses.
Both Alderon and Alsynite are well known for their outstanding chemical resistance, and natural lighting. This plant uses 17,273 M2 twinwall uPVC Alderon as the roofing and the cladding, and 934 M2 Alsynite FRP as the natural lighting roof and cladding.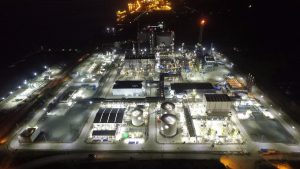 Lies in 192 Ha, and with a total investment of around USD 830 million, Banggai Ammonia plant is the biggest ammonia plant in Indonesia. The plant will have a production capacity of 700,000 metric tons ammonia using natural gas as a feedstock to produce fertilizer.