Jakarta, 31 March 2017 – Impack Pratama and Covestro (formerly Bayer Material Science) signed a collaboration agreement – Inclusive Business Collaboration, on tackling the challenges of post-harvest management in underserved communities at the headquarters of Impack Pratama at Altira Tower, Jakarta, Indonesia, on March 31.

Helping farmers to improve their livelihood
The inclusive business collaboration aims to improve the existing post-harvest management by disseminating Solar Dryer Domes to benefit small-holder farmers and agricultural cooperatives in underserved communities. This enables farmers to dry their agricultural products, such as bananas, tomatoes, chili, cocoa, coffee, herbs as well as fisheries products for fishing communities under more hygienic circumstances, while at the same time improving the quality and the output.
Haryanto Tjiptodihardjo, President Director of Impack Pratama: "Impack Pratama as an Indonesian company would like to contribute to our countries underserved communities, especially to small-holder farmers and fishermen. We hope they will benefit by using the Solar Dryer Dome to improve the harvested products and income accordingly. We have been in business with Covestro (previously "Bayer MaterialScience") for over 25 years. Over time we have built a strong relationship and trust. We believe this collaboration will contribute to the underserved communities in Indonesia and beyond to improve their livelihood. This will benefit many, as Indonesia is basically still an agrarian country with the majority of the population depending on agriculture and fisheries for their livelihood."

Increasing productivity by up to 45 %
With traditional drying methods, such as road side drying, small-holder farmers often face the challenge of contamination of their harvest by dust, insects, rain water and UV light. Due to various factors 30 – 50 % of the products do not reach the market and are not turned into economic value.
With the Solar Dryer Dome, invented by Prof. Dr. Serm Janjai and his team at Silpakorn University in Thailand, the output of farmers can be increased by up to 45 %, improving the livelihood of farmers significantly.

Innovative greenhouse solution
The dome works like a greenhouse. Due to the construction with polycarbonate sheets, the temperature inside the dome can be increased by up to 200 % compared to the outside temperature. The small fans enable the air to circulate and remove moisture from the dryer. Also, the sheets protect the products from UV light. The increase in temperature shortens the drying process significantly. E.g. bananas can be dried within 3-4 days instead of 7 days with conventional methods.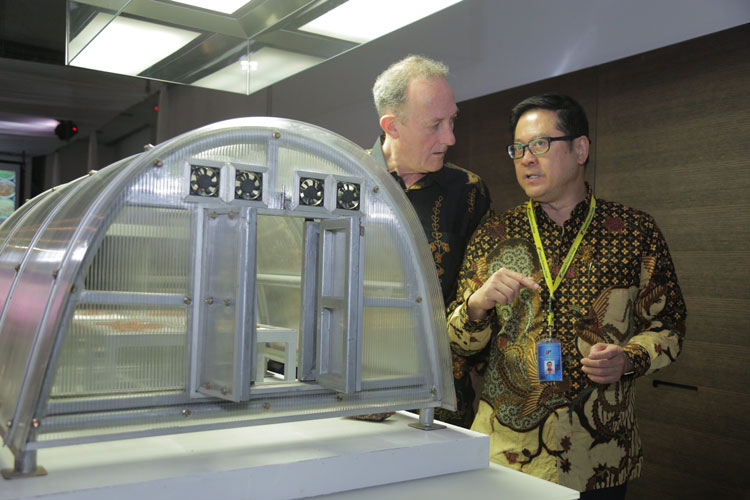 Richard Northcote, Chief Sustainability Officer at Covestro: "Covestro has been working on food security solutions for several years, with projects already on the way in Vietnam, Thailand, Myanmar as well as Indonesia. It is an integral part of our sustainable business targets to reach and economically benefit 10,000,000 people in underserved markets by 2025. The collaboration with our customer Impack Pratama will help us to get closer to achieving this goal, by providing their know-how, access to the market and last but not least their passion to move this forward together."
Apart from the conventional sales channels, the two partners are planning to bring the solution to the market by collaborating with e.g. social enterprises, NGOs, the government and micro-finance institutions.
Impack Pratama and Covestro are confident that with this partnership, they will enable the farming communities to build a more sustainable business and thus contribute to the development of the agricultural sector in Indonesia and beyond.