May 24, 2023 – To prove Impack's commitment towards transitioning to a low carbon economy, Altira Business Park has successfully received Greenship Certificate from the Green Building Council Indonesia (GBCI) with a 'Platinum' rating in 2023. Altira Business Park is a building complex owned by Impack's subsidiary, PT Sinar Grahamas Lestari, located in Sunter area, North Jakarta, and managed by PT Bona Fide Pratama. Altira is able to increase its score to 'Platinum' as it was previously certified with a 'Gold' under the category of New Building in 2018.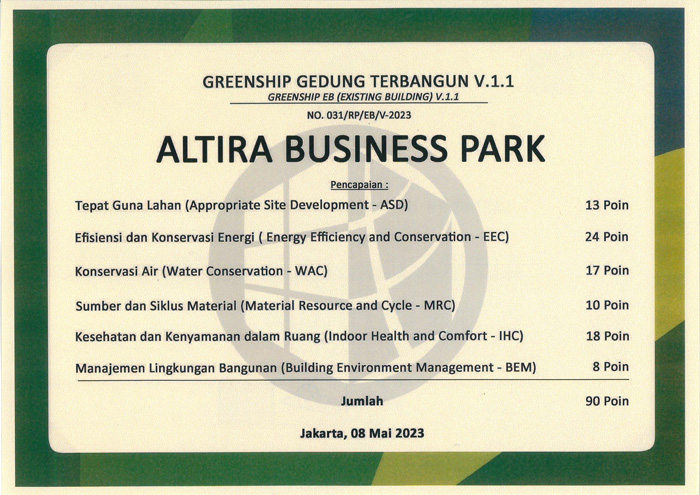 The building received a total score of 90 after going through a strict assessment that evaluates the site development appropriation, energy efficiency and conservation, water conservation, material resource and cycle, indoor health and comfort, and building environment management. Several initiatives and technologies which help Altira receive its accolade are the use of Low-E double glass window, VRF air conditioning system, and underground rainwater harvesting system.
"Impack is honored to receive a Green Building Certificate from the GBCI with a progressive improvement in our rating, from 'Gold' to 'Platinum'. We are always committed to operating in an environmentally friendly way and our Altira Green Building helps us to achieve our ambitious sustainability goals," says Sugiarto Romeli, Impack's Director of Sustainability and New Product Development.