Friday, 2nd  of June 2023 – Bali, as one of the most affected areas by the Covid-19 pandemic due to its dependence on the tourism industry, gives us an awareness of the importance of other industries for Bali's economic contribution. PT Impack Pratama Industri Tbk, as a provider of sustainable and innovative building products, realized Bali's marine and fisheries potential, which currently receives few attention. Impack, therefore, together with the Universitas Hindu Indonesia (UNHI), Trisakti University, and PT Bank Central Asia, are collaborating to provide real solutions to activate Bali's creative economy in the Jembrana coastal area through the provision of innovative solar drying products, i.e. Solar Dryer Dome along with its fisheries processing facilities for the Women Farmers Group (KWT) Bedetan Perancak.
Jembrana Regency is one of the regencies in the southwest of Bali which is famous for its West Balinese food, namely Bedetan. Bedetan is a snack made from Sardinella lemuru fish which is dried and seasoned with special spices from the coast of Perancak. It is very tasty, especially when paired with warm rice. In traditional processing, the seasoned fish is dried in the open air for 7 days, then put into simple plastic packaging for sale. Through the use of the Solar Dryer Dome, the productivity of the KWT women significantly increases because the drying process now only lasts for 2 days.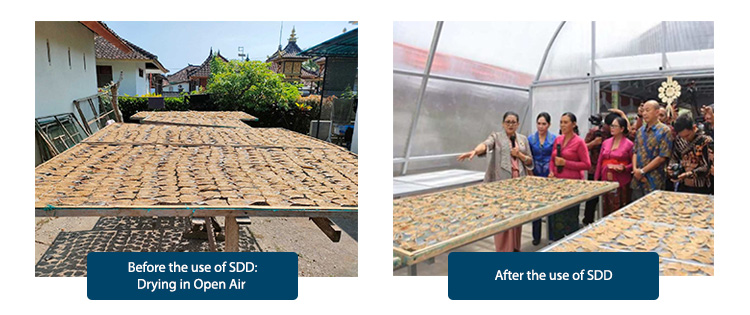 Realizing the potential of this traditional food, Impack also collaborates with the Institut Pariwisata dan Bisnis Internasional (IPBI) Bali to provide guidance to KWT women to produce Bedetan with various flavors and guaranteed quality standards. To increase the market value, for the past year of this project, Impack also worked together with PLUT KUMKM Jembrana in making Bedetan packaging that is hygienic and attractive to consumers. At the time this news was published, the product is already being sold in various souvenir shops in Bali and online marketplaces.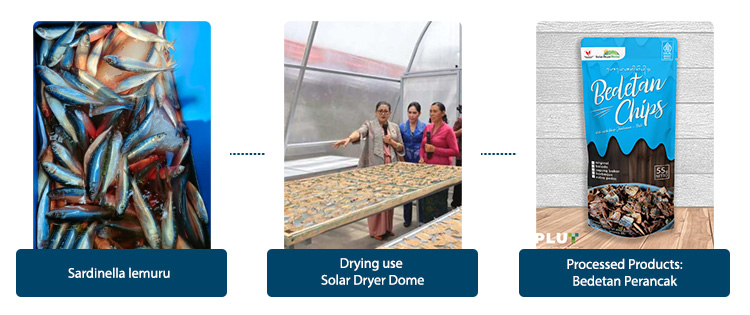 The project was inaugurated on Friday, 2nd of June 2023 in Jembrana and was attended by the Head of PKK team of Bali province Ni Putu Putri Suastini Koster, Director of Sustainability and New Product Development at PT Impack Pratama Industri Tbk Sugiarto Romeli, EVP Commercial SME BCA Freddy Iman, Team Leader Jembrana Regency PKK, Head of Maritime Affairs and Fisheries Service for Bali Province Putu Sumardiana, Head of Trisakti Sustainability Center (TSC) SDG Center Trisakti University Juniati Gunawan PhD, Head of UPT Kerthi Bali Research Center I Putu Fery Karyada, and Rector of Universitas Hindu Indonesia Prof. Dr. drh. I Made Damriyasa, M.S.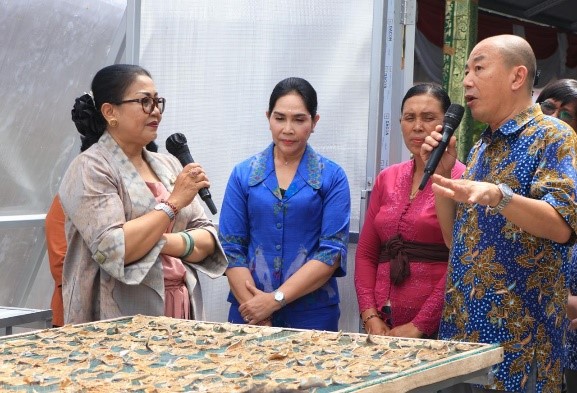 "Solar Dryer Dome has opened a new door for KWT women to increase their income through increased productivity, as well as the ability to process and market Bedetan fish with higher selling prices. I hope the SDD that we have built can continue to serve its purpose optimally and the entrepreneurship training that we have conducted to KWT women could always be applied. I envision this product to be well-known in the future and be available in every souvenir shop in Bali," said Sugiarto Romeli.
To ensure the sustainability of this program, PT Impack Pratama Industri Tbk and UNHI will continue to monitor and play an active role in its practice for the next 5 years. This will include the monitoring of Bedetan sales and together with KWT women expand the market reach of Bedetan products which will finally boost its sales.