VIDEO TWINLITE GRECA INSTALLATION GUIDE
TWINLITE GRECA INSTALLATION
This is the basic information on the installation of TwinLite Greca. Please read and follow the installation's instruction carefully before starting. For more detail information, please refer to TwinLite Greca manual installation book.
Sealant Neutral Clear OCI N192
Sealant Gun
Aerotape
Karpet Flashing
Baut 70mm + karet seal yang dianjurkan
Bor Listrik
Mata Roofing
Cutter dan Gunting
Palu Karet
Rol Kabel
Tangga
Sarung Tangan
Kacamata / Google
Helm
Wearpack
Purlin pertama dan terakhir berjarak 700 – 850 mm dari purlin berikutnya.
Jarak purlin atau reng berikutnya adalah 1000 mm setelah purlin pertama dan sebelum purlin terakhir. Sedangkan lebar purlin atau reng bebas. (lihat gambar 1)
Agar air hujan mengalir ke bawah dengan baik, sudut kemiringan atap yang dianjurkan adalah 5o minimum.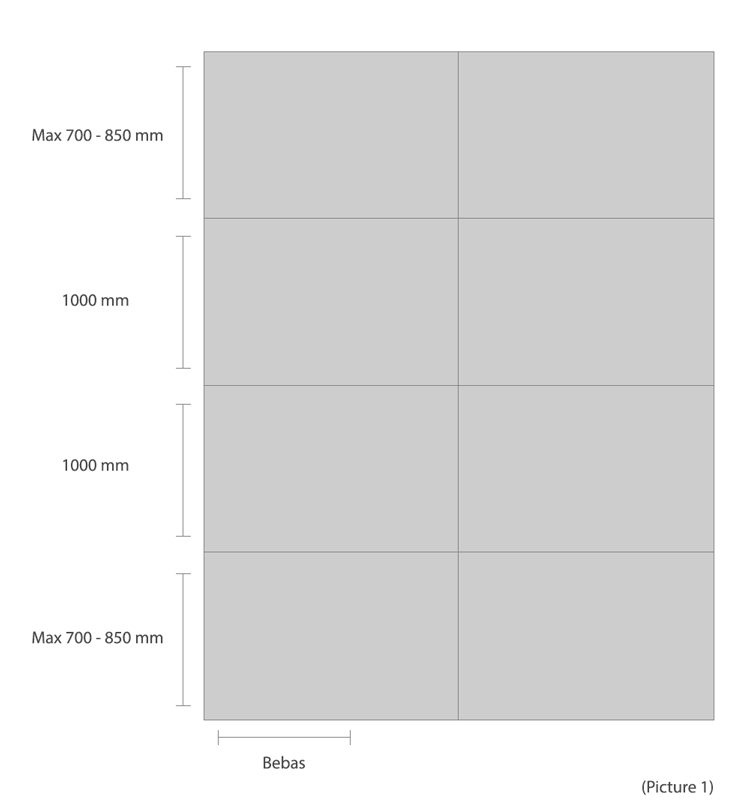 Profil
Ketebalan
(mm)
Lebar
(mm)
Lebar Efektif
(mm)
Tinggi
(mm)
Pitch
(mm)
Panjang
(mm)
Berat/m2
(kg)
Warna
TwinLite Greca
6
875
820
35
205
6,000
1,5
Clear, Silver Millenium, Cool Grey, Opal
*Panjang produk bisa disesuaikan dengan kebutuhan, dengan minimum order yang berlaku.
1 lembar Twinlite Greca memiliki lebar efektif 820 mm, panjang 6000 mm dan jumlah gelombang 5.
Selalu memasang lembaran TwinLite Greca dengan permukaan Ultra Violet (UV) menghadap sinar matahari. Pastikan memperhatikan sisi berlabel pada lembaran sebelum pemasangan. Permukaan UV ditandai dengan label UV SIDE.
Pastikan posisi lembaran yang berlabel sticker Twinlite Greca menghadap ke atas. (lihat gambar 3)
PERHATIAN: Garansi tidak berlaku jika pemasangan terbalik.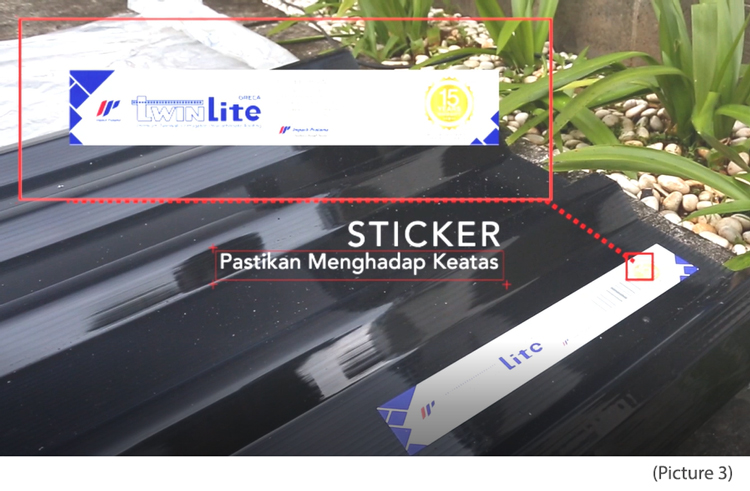 Pasang aerotape di setiap rangka sebagai alas redam suara Twinlite Greca. (lihat gambar 4)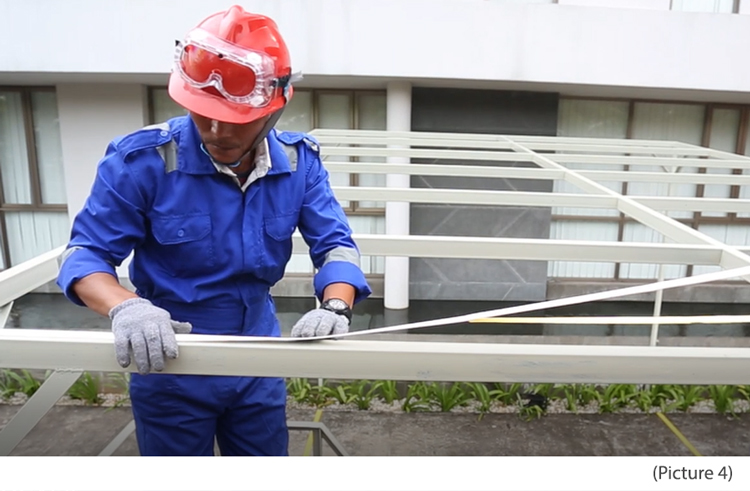 04 JARAK OVERHANG & SAMBUNGAN
Angkat lembaran Twinlite Greca ke atas rangka. Pastikan sisi overlap atas atau bagian yang lebih lebar terpasang di sisi bagian luar dari rangka. Atur jarak overhang depan serta samping maksimal 150 mm depan dan satu gelombang ke samping. (lihat gambar 5)
Pastikan bagian terpanjang EZ-FIX System berada di atas sambungan. Panjang jarak sambungan sisi panjang (length overlap) yang disarankan adalah 200mm untuk atap yang landai dan 150mm untuk atap yang lebih curam.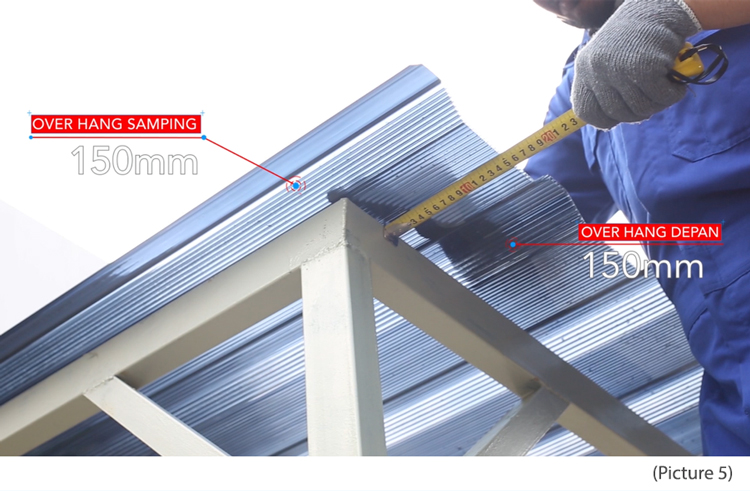 Gunakan selalu baut/paku berkepala yang dilengkapi dengan karet pelindung. Buat lubang dengan diameter 2 – 3 mm lebih besar dari ukuran baut. (lihat gambar 6)
Hal ini dilakukan untuk menyediakan ruang pemuaian karena adanya perbedaan suhu di siang dan malam hari.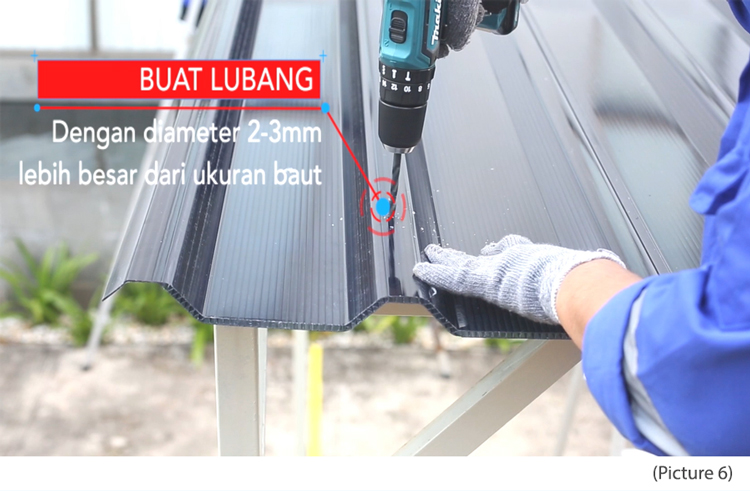 Lakukan pembautan di sisi depan, dimulai dari gelombang kedua, ketiga dan keempat. Pemasangan baut di purlin atau reng tengah hanya di gelombang kedua dan ketiga saja. Lalu lanjutkan ke purlin atau reng berikutnya. (lihat gambar 7)
Lakukan pembautan disisi paling belakang, dimulai dari gelombang kedua, ketiga dan keempat. Lanjutkan mengangkat lembaran Twinlite Greca yang kedua.
Lakukan pemasangan baut di gelombang satu, dua, tiga dan empat, untuk purlin depan dan belakang. Dan gelombang satu dan tiga untuk purlin tengah. Selesaikan semua pemasangan baut hingga semua lembar terpasang.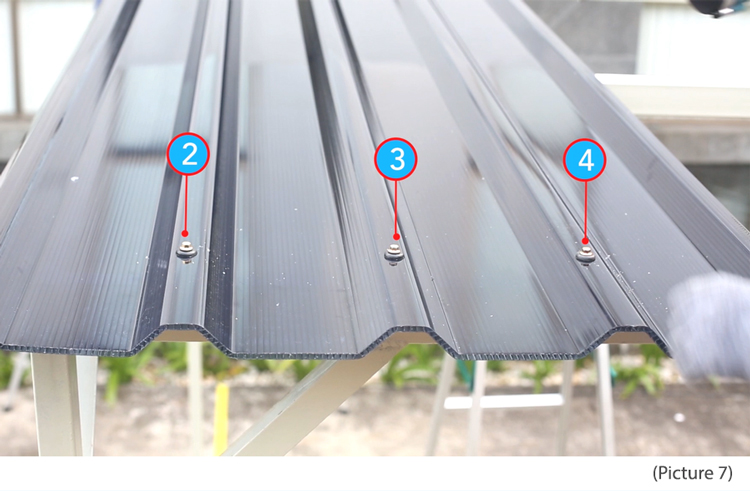 Pasang cover Twinlite Greca dari sisi kanan rangka. Gunakan Sealant Neutral OCI N-192 sebagai perekat cover Twinlite Greca. (lihat gambar 8)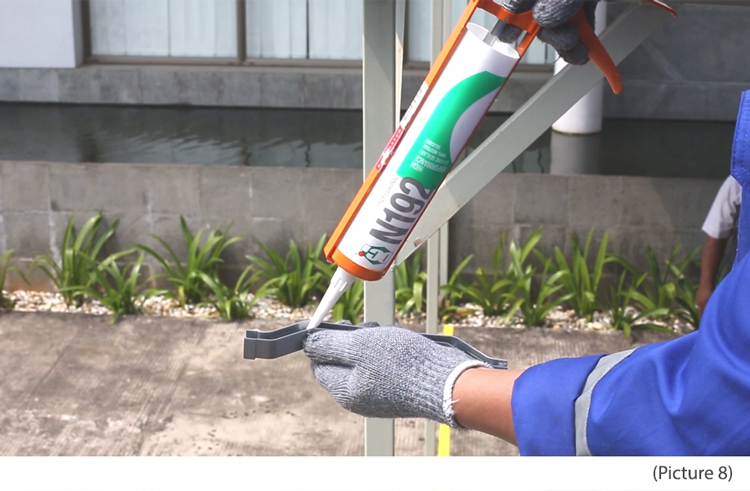 Bila sisi belakang berhadapan dengan tembok, maka gunakan flashing untuk mencegah kebocoran.
Baut di sisi belakang Twinlite Greca dilepas.
Buat alur atau tali air ditembok dengan kedalaman 1-2 cm untuk memasukkan karpet flashing.
Potong karpet flashing sepanjang area yang akan dipasang.
Pasang baut di sisi belakang, mengikat karpet flashing.
Oleskan Sealant Neutral OCI N-192 di sisi atas yang menghadap tembok di karpet flashing.
Pastikan semua profil dan baut sudah terpasang lengkap.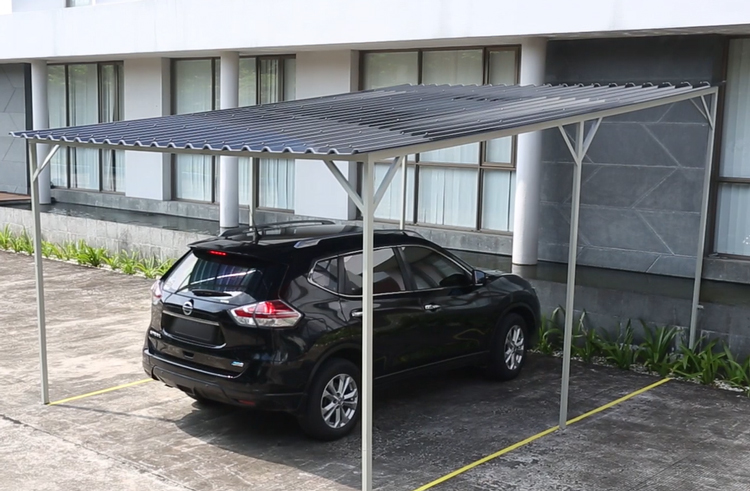 ANY FURTHER QUESTIONS?
For further information on our products, please simply fill in the form below and our representative will respond to you as soon as possible.