Sustainability
Since its establishment, PT Impack Pratama Industri Tbk has declared its full commitment to providing the best service and high quality products for the community.
This commitment has produced many remarkable achievements that have been successfully internalized into our basic principles and values, while managing our Company and subsidiaries.
Our Sustainability Highlights in 2021
Sustainability is fully embedded throughout our daily operations. We have set up sustainability pillar along with measurable long-term targets in order to provide direction and to make sure that we are on the right track in achieving our 2030 goals.
Economic Growth
Anti-bribery and Anti-corruption policy

30%
Increase in net revenue/employee (base year 2019) amounting to IDR 1,060 million
76%
Increase in net income/employee (base year 2019) amounting to IDR 100 million
Appointed a Sustainability Director to help shape company's sustainability direction
Long-term sustainability targets have been set with quantitative and measurable indicators (aligned with SDGs)
78%
of the total quantity of raw materials purchased sourced from national suppliers
Employees & Communities
0
Fatality
25%
Proportion of women on the BoD
76%
Employee satisfaction rate
Production of face shield, protective partition, and hand-sanitizer in times of COVID-19 pandemic
33,849
People benefited from Solar Dryer products across 30 provinces in Indonesia
85%
Customer satisfaction rate
Environmental Solutions
Alternative Raw Materials from Waste Being Used in 2021
131.3 Mio
Low Density Polyethylene (LDPE) plastic bags
10.1 Mio
Polyethylene Terephthalate (PET) plastic bottles
5,286 tons/year
of materials recycled and Used
Value Creation from Waste
Based on our technical know-how, we are able to produce EZ-Lock and Ecolite, our roofing products that are primarily made from waste without sacrificing their premium qualities
ISO 14001:2015
Environmental Management System Certification
Contribution to Biodiversity
39
Brahminy Kite birds rescued from illegal trade
>1000
Stray dogs rescued
Climate Change
520 Tons CO2eq
Emission reduction from the usage of Solar Dryer
Altira Green Building
certified:
✔ 37% energy efficiency
✔ 32% water efficiency
✔ 85% rainwater runoff reduced

17%
Energy efficiency compared to 2019
61 Tons CO2eq
Emission reduction from the usage of Solar Panels (0.3% reduction from total emissions in 2019)
748 Tons CO2eq
Total emission reduction, increased by 14% compared to 2020
❮
❯
Our Sustainability Pillars
Our commitment to sustainability is reflected on our Sustainability Pillar. We focus on four pillars that have become the drive of the Group. Through our Sustainability Pillars, we invite all stakeholders to help us realize our Sustainability efforts.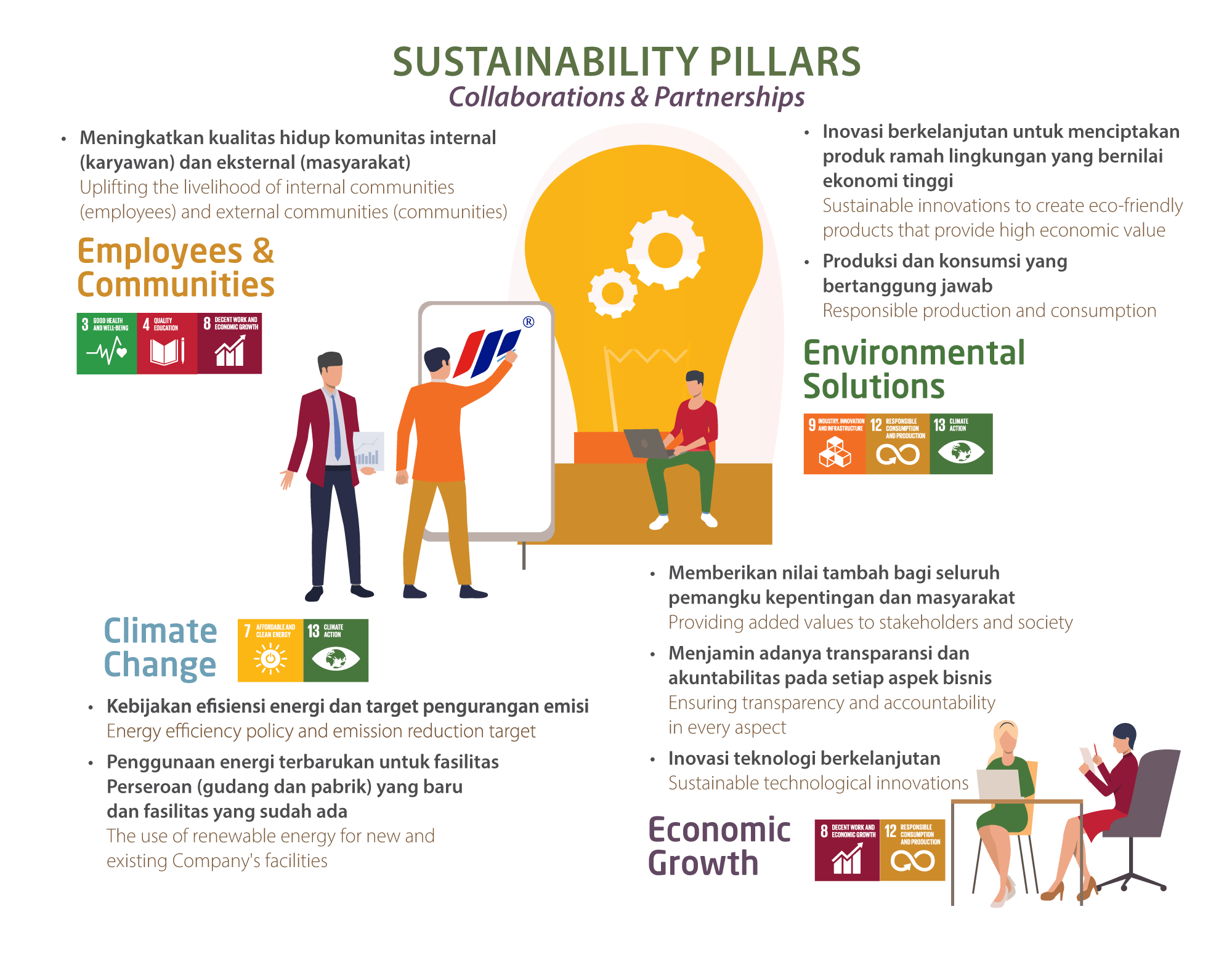 Our 2030 Goals
Setting up 2030 goals means that we have committed to place sustainability at the heart of our core business by practicing, measuring, monitoring, and reporting our sustainability progress and results.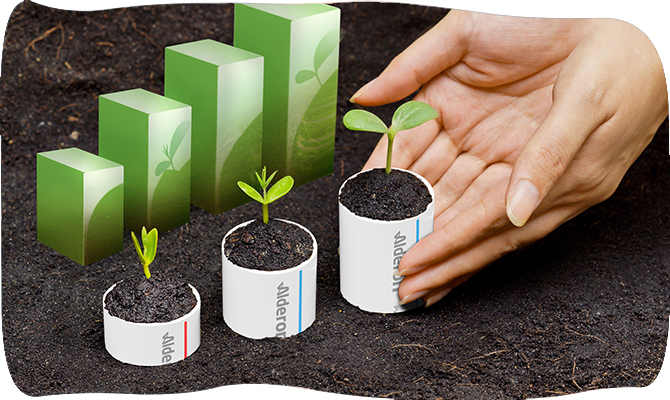 Economic Growth
Apart from achieving prosperity within the Company, providing added value to stakeholders and society in general remains one of the main goals of the Company.
The Company seeks to achieve this as well as ensure transparency and accountability in every aspect of its operations.
83% Increase in net revenue/employee (base year 2019) amounting to Rp 1,500 million
112% Increase in net income/employee (base year 2019) amounting to Rp 120 million
82% of the total quantity of raw materials purchased sourced from national suppliers
Employees & Communities
In its operations, the Company aims to uplift the livelihoods of its internal communities (employees and staff) as well as external communities (societies).
Employees and communities are stakeholders of the Company and therefore under its sphere of influence; the Company ensures and strives to consistently impact them in a positive manner.
85% Employee satisfaction rate
88% Customer satisfaction rate
73,000 people benefitting from Solar Dryer products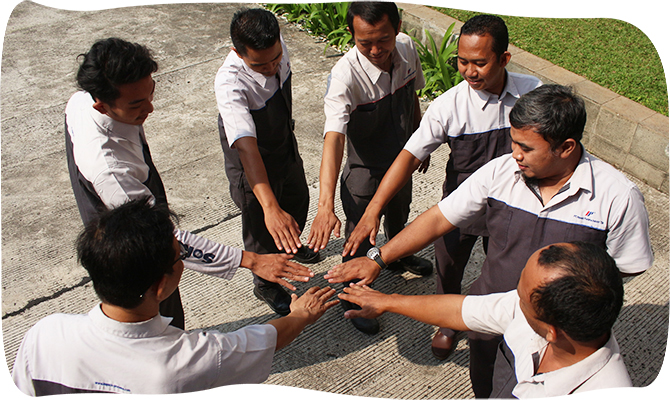 Environmental Solutions
Sustainable innovations are one of the main focuses of the Company as continue to produce eco-friendly products that provide high economic value without harming the environment.
As part of its commitment in maintaining environmental sustainability, the Company pledges to produce and consume responsibly.
Increase in the use of recycled materials to 5,000 tons/year (an increase of 31% from 2019)
Climate Change
In its efforts of combatting climate change, the Company develops and implements energy efficiency policies and sets emission reduction targets as a framework for this pillar.
As part of its endeavor, the Company will gradually shift to renewable energy sources for its new and existing facilities with the ultimate goal of being carbon neutral, in terms of energy usage.
1,500 Tons CO2eq emission reduction from the usage of Solar Dryer
3,500 Tons CO2eq emission reduction from the usage of Solar Panels (15% reduction from total emissions in 2019)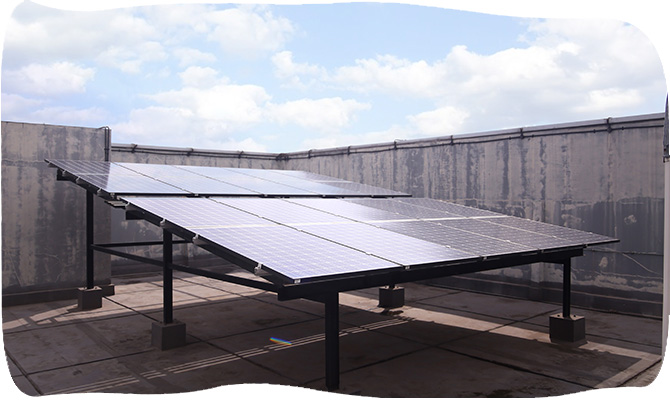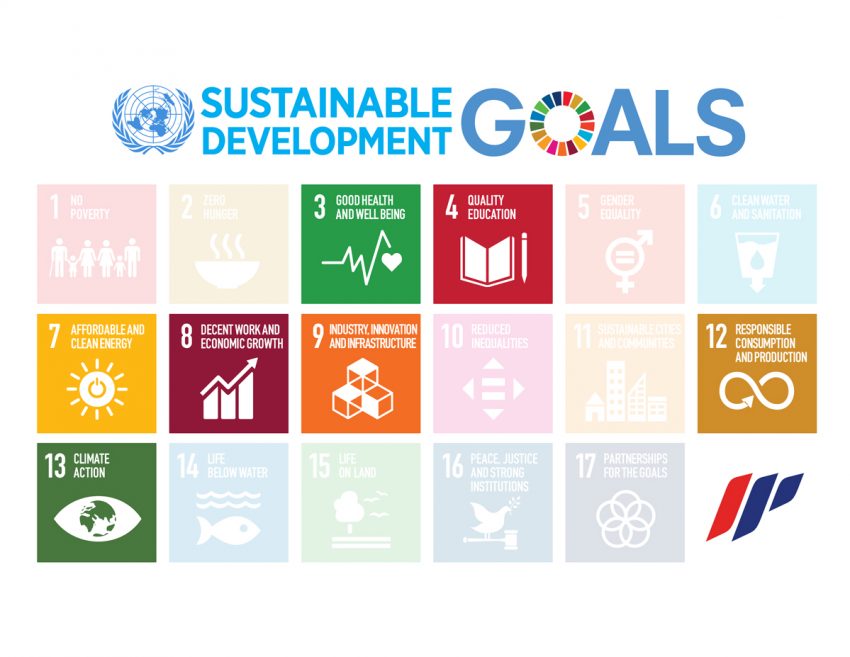 Our Sustainability Report
Read about how we aim to achieve our 2030 Goals along with our progress in our Sustainability Report.
Collaborations and Partnerships
Impack cooperates with various organizations and entities to increase its scope of influence and ultimately further its positive impacts to contribute to the SDGs.
With both collaborations and partnerships, Impack is dedicated to solving global challenges and issues collectively. From collaborating with established and reputable businesses to partnering with NPOs and NGOs, we are committed to uphold the UN's SDGs and ensure economic, social, and environmental sustainability.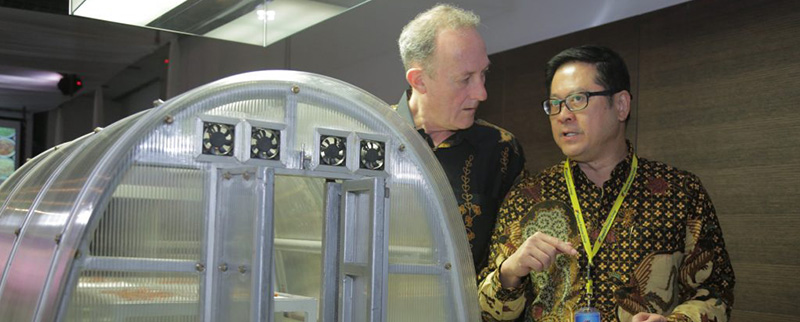 Industry and Academic Partnerships
Impack, Covestro and Silpakorn University
Impack collaborates with Covestro in addressing Indonesia's agricultural needs for drying facilities by disseminating Solar Dryer Dome (SDD), which was previously developed by Dr. Serm Janjai from Silpakorn University, to underserved communities.
Impack and Bina Nusantara University
Impack cooperates with Bina Nusantara University for research, product development, education and community service. The fields of research include the improvement of building material products and the Solar Dryer Dome product.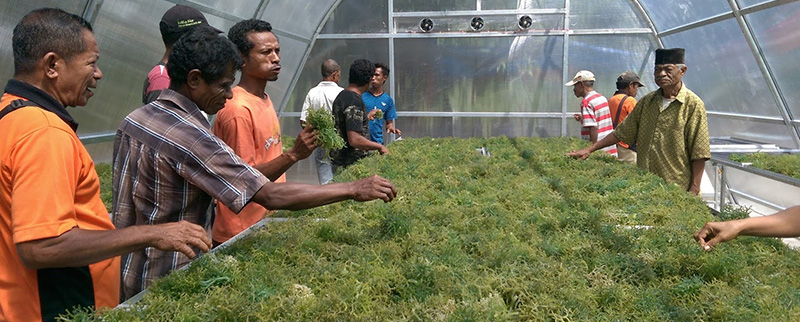 Partnerships with Communities
We also welcome and support local communities and basically anyone who will help us contribute to the realization of the Global Goals. Contact our Sustainability Team to present your ideas and find out how we will help to get your sustainable ideas come into action.